Earned Wage Access For the Modern world
An introduction to Earned Wage Access and its contribution to employee retention and financial well-being.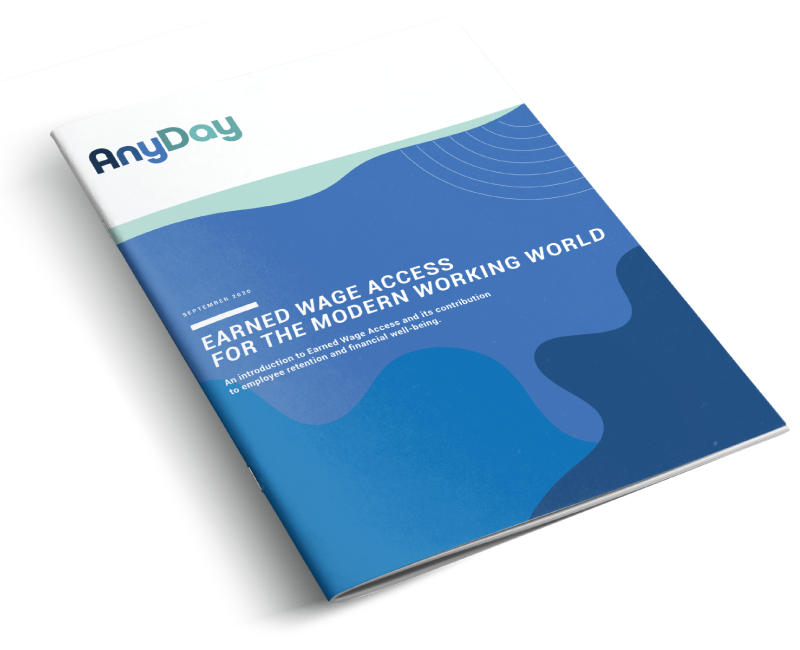 closed
Chapter 1: The Working World Needs Earned Wage Access (EWA)
Employee retention, essential to business growth and longevity, requires an employer to provide competitive wages and support the overall financial wellness of its employees. Instant pay of accrued wages – what we and others refer to as "earned wage access" – addresses both requirements without the need for predatory payday loans.
Chapter 2: Earned Wage Access and Employee Retention
Today's workforce faces myriad challenges. Whether it is student loans, credit card debt, taking care of an aging parent, or planning for retirement, there are various hurdles in place when it comes to achieving a sense of real financial security. Here we'll discuss what financial wellness means for employees and how program providers can address this need. 
Chapter 3: Earned Wage Access Beyond the Gig Economy
Earned wage access presents opportunities and benefits for international corporations, brick-and-mortar retailers, and traditional gig economy users. Two notable companies, Uber and Wal-Mart, provide examples of how earned wage access can support employees while meeting an organization's business objectives.
Chapter 4: How to Select An Earned Wage Access Partner
When considering an earned wage access partner, it is important to review parameters for wage disbursement and how on-demand pay is funded for the payroll provider and employer. Leading earned wage access solutions that actively help employers manage the financial wellness of their employees do not advance future wages or charge interest.
Chapter 5: How Earned Wage Access Works for Employees and Employers
Easy implementation should be a staple of any earned wage access solution. Here we will discuss important considerations for both the employee and employer, including seamless integration and how funds are accessed by the employee.
Chapter 6: The AnyDay Solution
At AnyDay, we believe payroll service providers, workforce management companies and professional employer organizations should take a closer look at their programs to address the financial challenges faced by today's workforce while motivating employees to improve their overall economic well-being.
Chapter 7: Executive Summary
The AnyDay team has extensive experience in the financial services and payments industry. Learn more about our leadership and how we can help facilitate an earned wage access solution that meets your needs.
Our dedicated team has extensive experience in the financial services sphere and a track record of success in the payments industry.

Chapter 8: Conclusion
As awareness of instant pay grows, hourly and salaried workers want employers to provide immediate access to earned wages. Simultaneously, enterprises, including brick-and-mortar businesses, want an effective earned wage access solution as a tool to recruit and retain employees.
The premier instant pay provider
Financial wellness is just a click away